Despite the time it may take to pin down that perfectly fitting gift, I still somehow enjoy the thrill.
Typically, giving gift cards are at the bottom of my list, as a last resort; however, the gift I'm sharing today is packed full of them and keeps on giving long after the holiday has come and gone.

This Date Night Gift Card Box is a gift that actually spreads your love throughout the entire year with twelve pre-planned, and paid for, mini dates.
• Sometimes the best gifts are the ones that can be enjoyed together •
The dates can be as extravagant as you would like them to be or just plain, simple and fun things to do.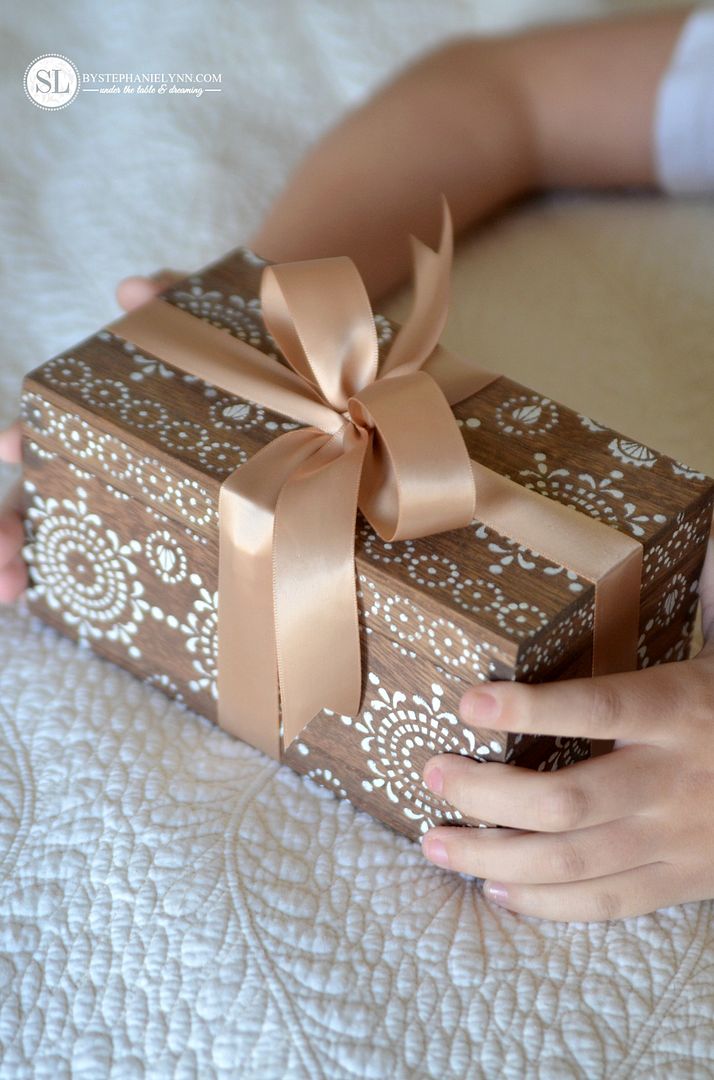 The gift cards and 'adventures' are fully customizable to the things you enjoy doing with your favorite someone.
And this Date Night Gift Card Box works for any holiday, any couple, any age.
I originally used this idea as a Christmas present for my in-laws a couple of years ago.
I loved the idea that they could reach in the box throughout the year and grab a pre-planned, pre-paid, 'mini date' whenever they were looking for something fun to do.
So this year I thought I would re-invent the idea for my valentine (and me) to enjoy as part of the Michaels Makers DIY.
All of the materials used for this project can be picked up right at your local Michaels store –
even including the gift cards.
This Date Night Gift Card Box can be as elaborate or simple as you want it to be and does not take much time to put together. A perfect way to personalize a special gift for your love one.
There are even some printables included below if you are looking for some mini date ideas to get you started!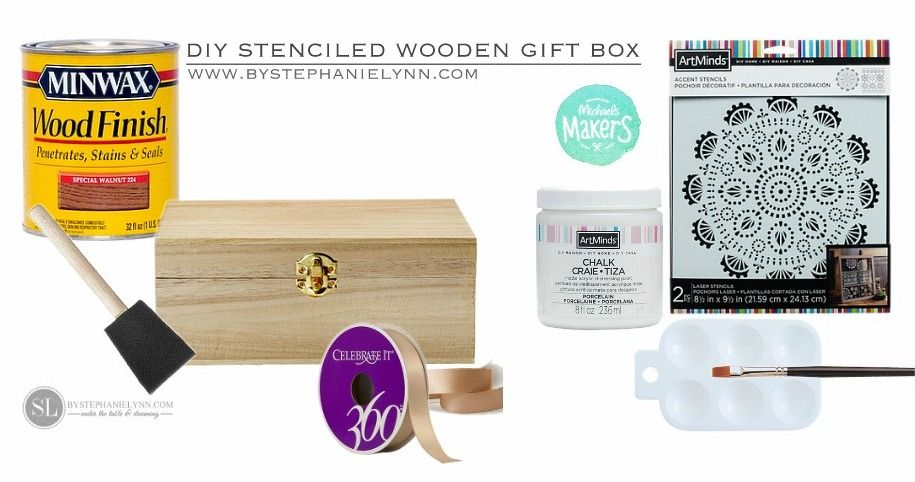 DIY Stenciled Wooden Gift Box
Materials Used
Additional Materials Used: Foam Applicator, Cotton Rag, Paint Brush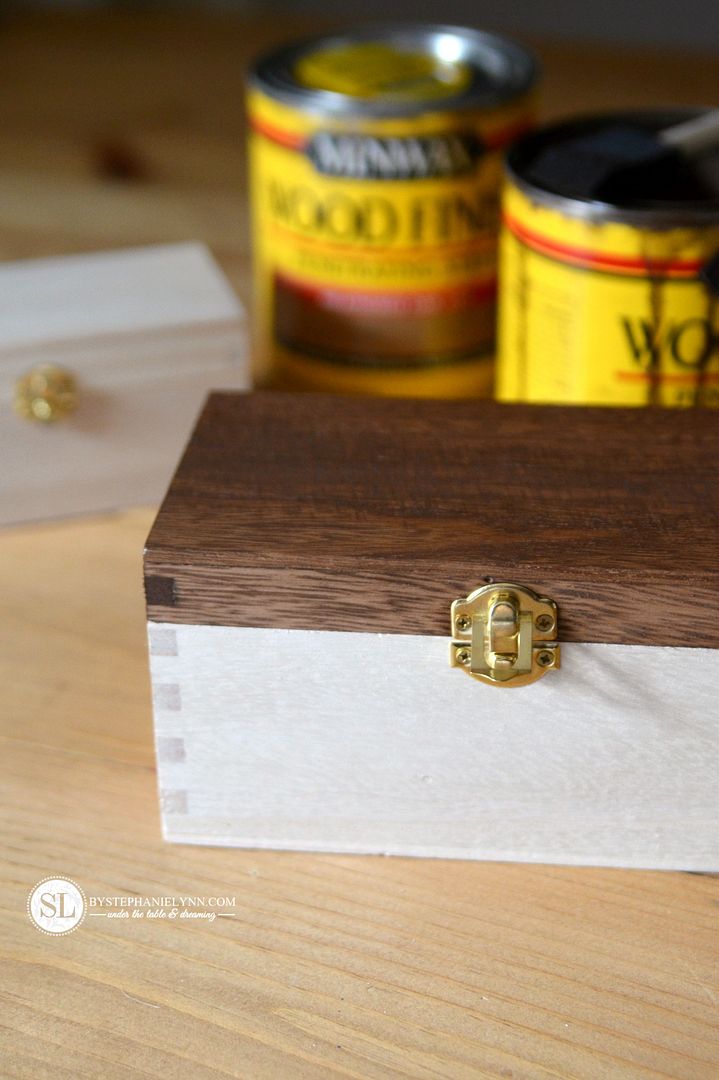 Step One: Stain or paint the unfinished wooden box.
There are a wide variety of wooden boxes in the unfinished wood section that are perfect for this project. I opted to stain this particular box . The stain was applied with a foam applicator, then the excess was wiped with a clean cotton rag. The stain soaks into the wood and dries almost instantaneously making this a quick and easy step. For a finished look, stain was applied to the inside of the box as well.
Step Two: Stencil the decorative pattern onto the box.
Once the stain was completely dry,  I used this to apply a decorative pattern to the box. The stencil set comes with two separate laser cut stencils. Sections of smaller stencil were used for this project.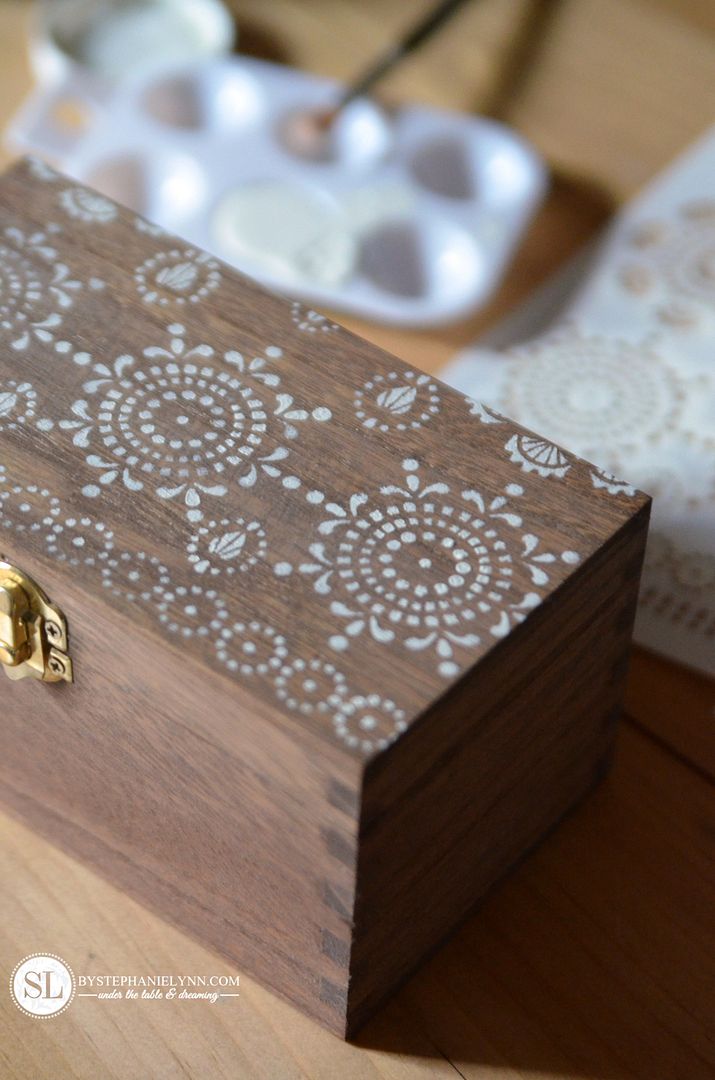 Working with one section of the box at a time, the stencil was simply held into place and dabbed with a light layer.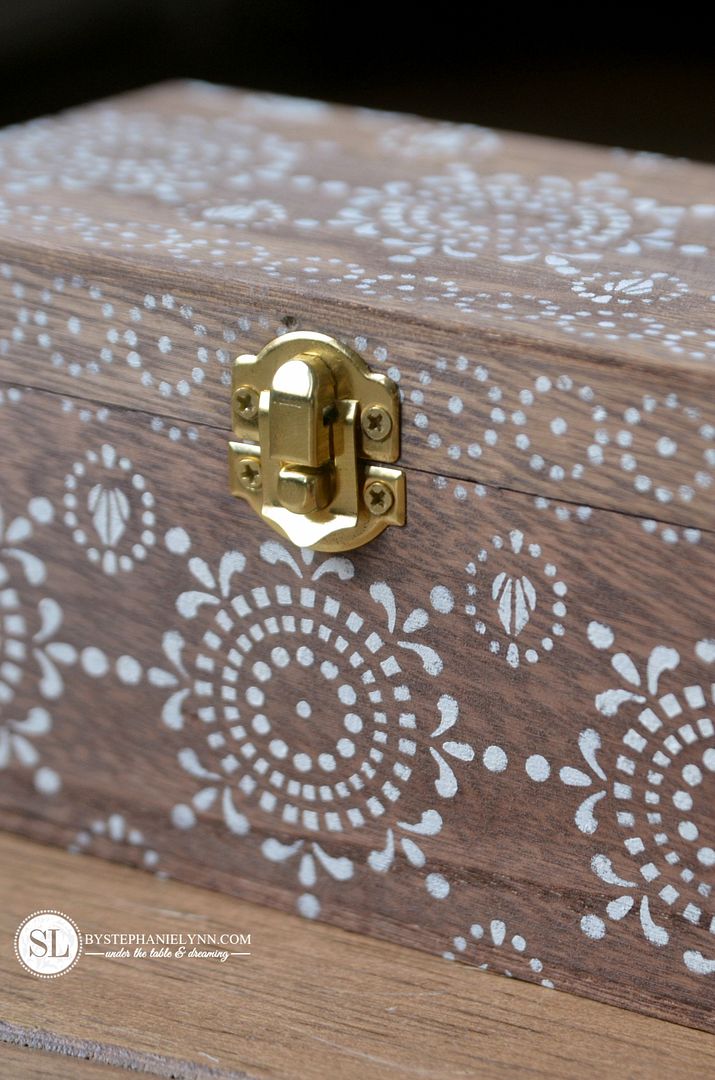 The hardware was simply removed with a small screwdriver prior to stenciling the front of the box – then attached once the paint was dry.
And again, the light layers of chalk paint dry real quickly.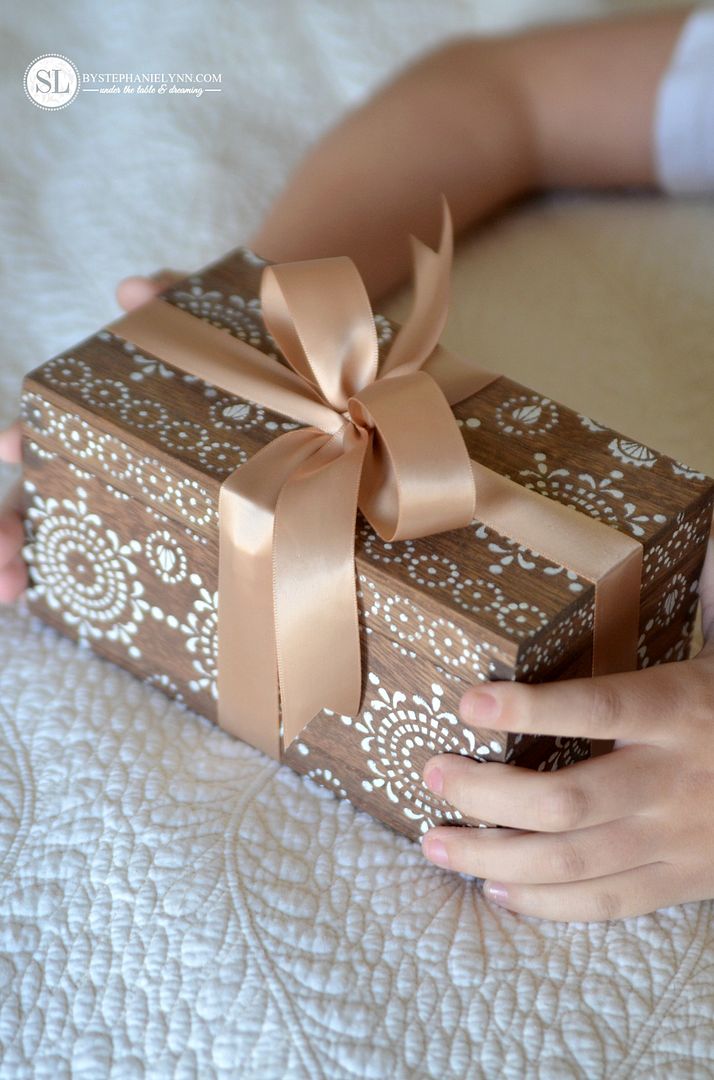 Source:bystephanielynn