If you recently got engaged, you're probably starting to think about those engagement photos. You know you want to do a photo shoot, but how are you supposed to make sure you get the best pictures possible? Well, it's not just about the photographer and the lighting; a lot of how your photos turn out has to do with what you and your partner decide to wear. So whether you're planning to use your engagement photos for your save-the-dates or just want to have some pretty professional pics to hang in your apartment, here are some tips about what to wear for your engagement photo shoot.
Wear something comfortable. If those perfectly-posed engagement photos just aren't you, go for a super casual engagement session instead. Throw on your favorite sundress, or pick out your favorite bowtie and get to posing. "I always recommend couples wear something they love themselves in," says Braedon Flynn, a California-based wedding photographer. "Don't wear something that isn't you, and don't make your fiance wear something that isn't him/her."
Photo Credit: Josh Dwain Photography on The Brides Cafe via Lover.lyMake sure you coordinate. Engagement photos are supposed to be about you and your partner and the love you have for each other, so make sure that comes through in the pictures! You don't need to be matchy-matchy, but make sure your outfits look good together. Whether you're dressing up or dressing down, you both should stick to the designated dress code and try to balance each other out. It never hurts to color coordinate either; choose complementary colors for a cohesive look.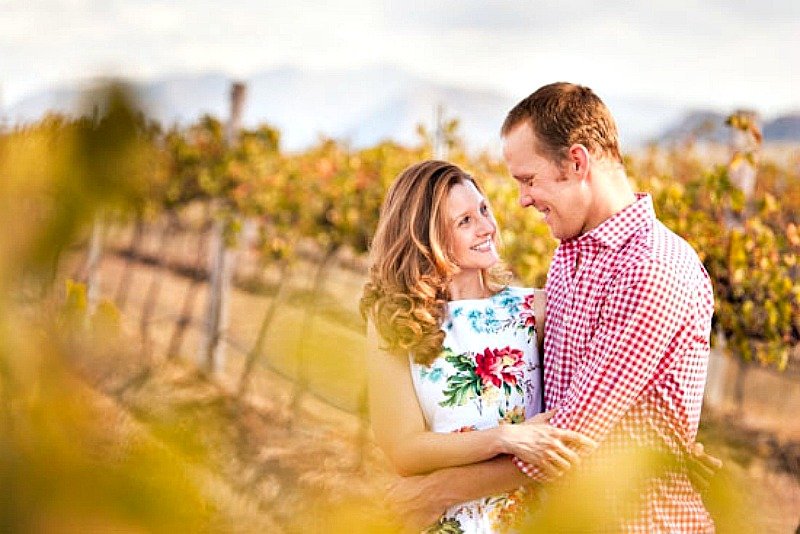 Photo Credit: Sarzy O from Timeless Tales Photography on Polka Dot Bride via Lover.lyFocus on your favorite features. If there's a part of your body that you love to show off (or perhaps your partner loves it when you do…), don't be afraid to play it up! Do you know you have killer legs? Rock a short dress (complete with elongating nude pumps, of course). Is your back your best asset? Wear a backless shirt to give it the attention it deserves. No matter what your favorite feature is, ask your photographer to capture it on film.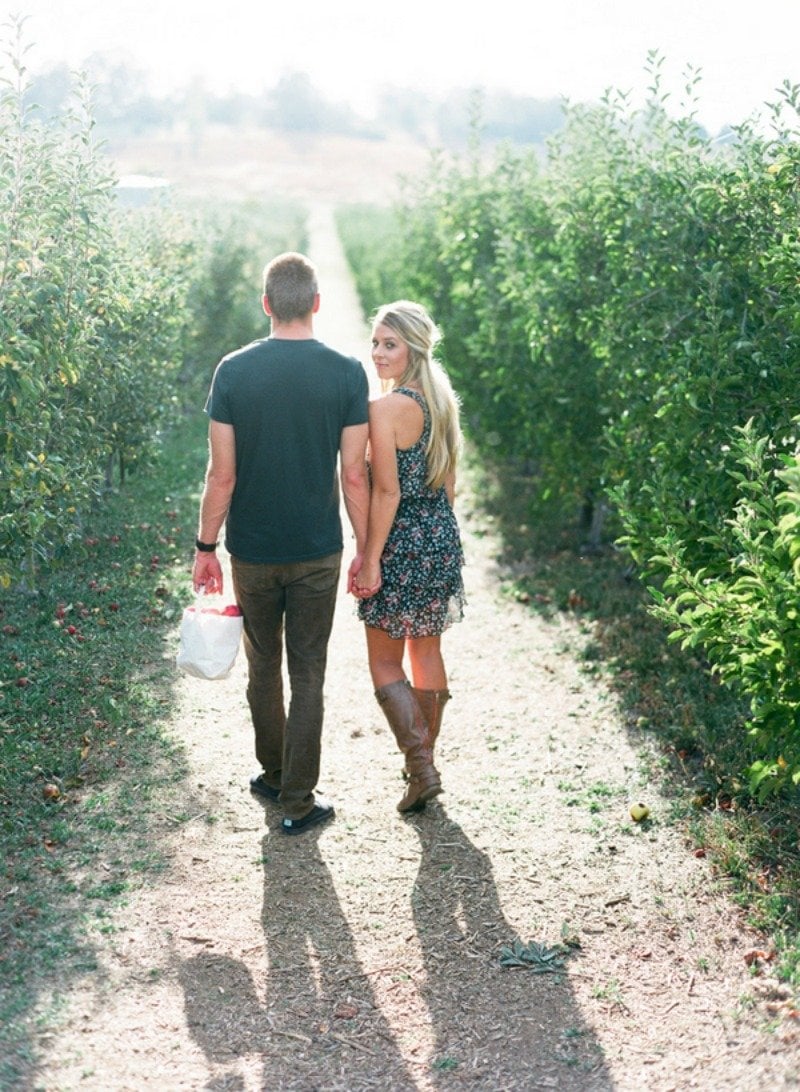 Photo Credit: Troy Grover Photographers on Inspired By This via Lover.lyConsider your surroundings. "I love shooting couples in places that are meaningful to them," says Flynn. "I generally ask couples what sort of a feel they want, and then I help think through locations." So as you're thinking through places that mean something to you, keep in mind what you'll want to do while you're there. Snapping pics in a field? Throw on some jeans and a flannel shirt. Heading to an amusement park? You might want to ditch the heels in favor of some cute sneakers. Let your clothes speak to your surroundings."
Photo Credit: Apryl Ann on Inspired By This via Lover.lyDon't be afraid to stand out. Depending on where you decide to do your shoot, a bright pattern or a bold color will really make your photos pop. If you're snapping shots in a stark location (like an old church or a rustic barn) or your partner opts for neutral tones (think: white shirt and khaki pants or a blush dress), the contrast your look creates will be totally stunning.
Photo Credit: Tealily Photography on Polka Dot Bride via Lover.lyLook your best. It's not just about what you wear on your body that matters for your engagement shoot; it also matters what you do with your hair and makeup. "Some brides use this as an opportunity to do their trial run for their hair and makeup," says Flynn. "Regardless, you're still paying a decent amount of money for and taking the time to have these photos shot, so you might as well look your best. Don't go crazy, and make sure you look like you in the end, but it never hurts to have someone professional prep you for the pictures."