Early on Monday morning, Special Counsel Robert Mueller handed down his first set of indictments in the Trump/Russia investigation, after a federal grand jury indicted former Trump campaign manager Paul Manafort and his longtime business associate Rick Gates on 12 charges, including conspiracy against the United States.
According to a senior member of the House intelligence committee, Mueller is said to have "sufficient information" to also indict Trump's former national security advisor Michael Flynn. The arrest is expected to happen soon.
Facing prosecution, two former high ranking officials in Trump's inner circle will be pressured to exchange their testimony in exchange for lesser sentencing and/or the possibility of avoiding criminal prosecution entirely.
Even with this all happening, there's credible information that Trump is waiting out resignation at this point. So far, Flynn has yet to testify against him since Congress refused to grant him immunity in exchange for his testimony – testimony that could have been extremely damaging to Trump.
According to Claude Taylor, who served on the staff of President Bill Clinton, Flynn's testimony is enough for Trump to consider waving the white flag.
"An ind journalist I have worked with-who has been reliable-says they have 2 sources that say Trump is considering options-incl resignation."
The information was also confirmed by Former chairman of RNC Steele, who told WWR at lunch that Trump will not finish his term; advises clients to bolster ties w/VP Pence.
Also, on Monday, it was announced that former Trump campaign advisor George Papadopolous pleaded guilty to making false statements to the FBI. This despite going on national television numerous times saying he had nothing to hide.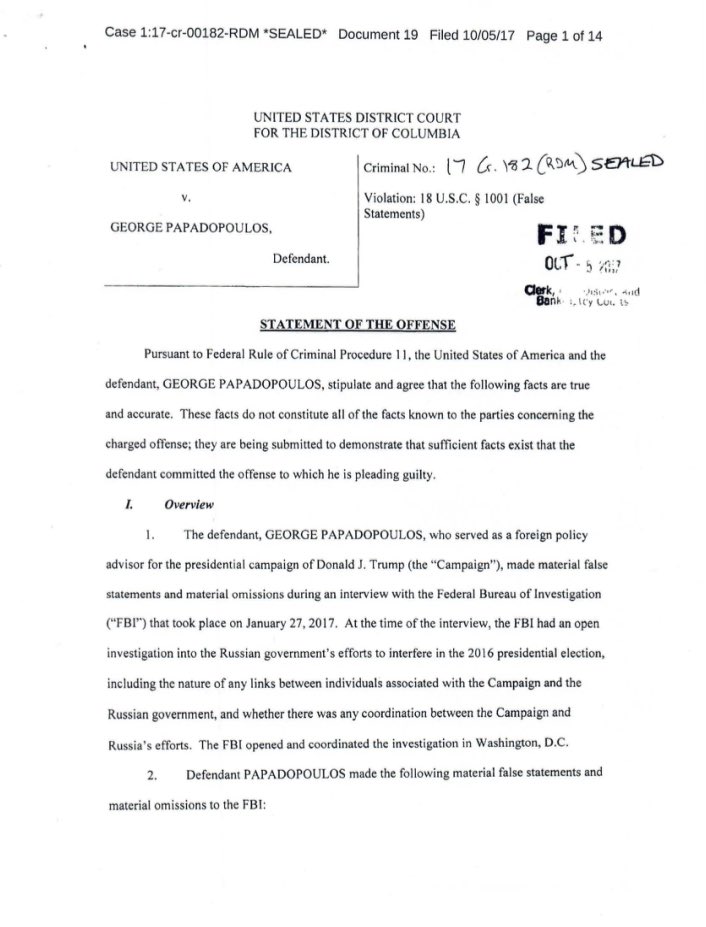 Special Counsel: Trump campaign advisor George Papadopolous pleaded guilty to making false statements to FBI agents. 
http://
bit.ly/2A0IL92