Here's a great collection of photos, explanations and concepts for adding storage to your dining room.
– Advertisement –
Formal dining rooms are often where the "fancy china" and dishes are kept. There probably won't be enough room in your kitchen to store these pieces, so why not put them on display in your formal dining room?
But who says you gotta stop with storing your fine china in the dining room.
You can store glassware, extra utensils, linens, wine, alcohol, serving implements, candles, napkins and pretty much everything you need for full dinner party service.
All you need is one, two or a few items that work well in dining rooms that store stuff (i.e. have drawers, shelves and/or cabinets.
Check out our list of dining room storage ideas below.
Buffet
A buffet table will usually have storage below the counter, so this is a great place to store dishes you don't use very often–porcelain and other serving dishes. If your buffet has drawers, you can also store linens and utensils.  You definitely want it so that it's not too deep unless you have a large dining room.  All dining room storage furniture should be shallow to preserve as much space for the dining table and chairs as possible.
The rich panelling of this buffet adds some serious elegance to this dining room. It also features three drawers and three cabinets. The counter is a great place to set serving dishes during a meal.
Serving Table
Serving tables serve a similar purpose as a buffet, but tend to look more casual. They also usually feature more open shelving than a buffet table.  As you can see from the example below, a serving table not only functions as a place to prepare dishes and/or drinks in the dining room, but can store all kinds of items such as glassware, wine, water jugs, dishware, etc.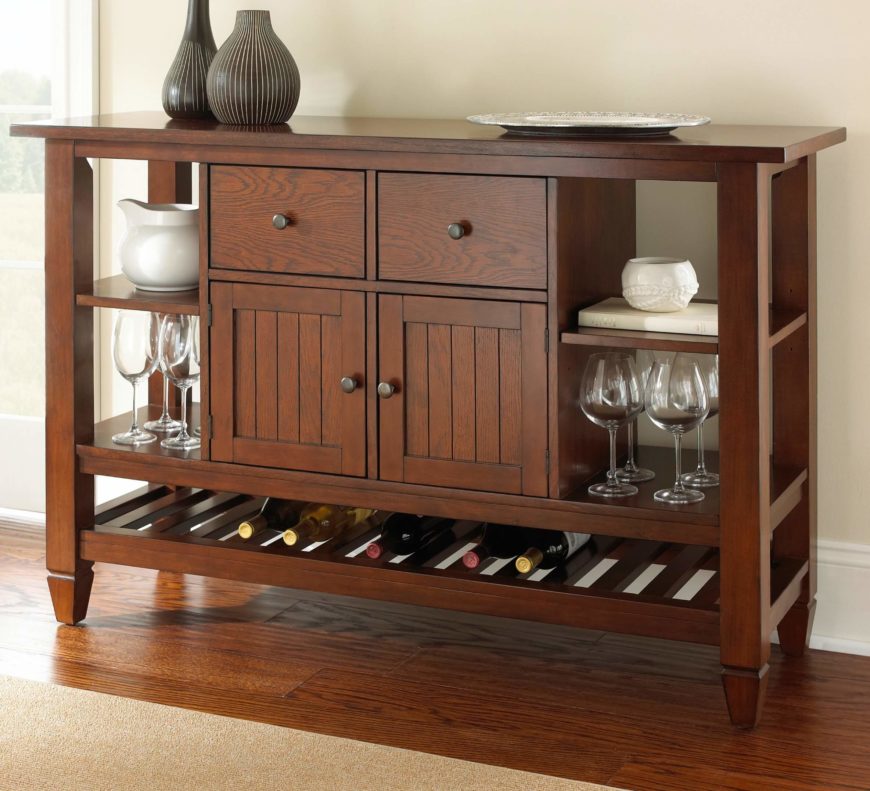 The bottom of this serving table includes a large wine rack. Glasses are stored on either side of the cabinets, with drawers above.
Credenza
There isn't much of a difference between a credenza or buffet, but it remains an excellent source of storage for a dining room. Credenzas tend to feature sliding doors, but that doesn't exempt them from cabinet doors either.
This credenza features a metallic front and an aged facade.
Shelves
Just like in other rooms, shelves can be used to display accent pieces, or everyday items that you'd like to keep off the countertop.
The thing with shelves is there are so many types.  You can get floating shelves, as shown below, or freestanding shelves.  Again, minimize how much of the dining room space they take up.  It's better to give up storage for ample room for guests to maneuver in and around the dining table and dining room.
These simple shelves don't take up too much room, and would look great with a variety of styles.
China Cabinet
China cabinets are excellent options if you have items you'd like to display. While some china cabinets are all glass, you can find others, like the one below, with drawers for more discrete storage.
The china cabinet is one of the largest storage options for a dining room.  The example featured below is a mid-sized option; they can be much bigger as in wider and taller (all the way to the ceiling).
The lower drawers are perfect for storing silverware or linens, while more delicate pieces are arranged in on the shelves above.
more on this link down
Source:homestratosphere