Both Jeb Bush and Mitt Romney, in true RINO fashion, lashed out at President Trump for his reaction to the violence in Charlottesville last weekend.
Both of these men are falling for the Establishment's narrative and are siding with the media by taking Trump's statements out of context.
Even though Trump condemned ALL violence, Romney suggested that Trump was equating both sides when he clearly was not.
"No, not the same. One side is racist bigoted, Nazi. The other opposes racism and bigotry. Morally different universes."
Bush also misconstrued Trump's remarks and slammed the President in a statement.
"This is a time for moral clarity, not ambivalence. I urge President Trump to unite the country, not parse the assignment of blame for the events in Charlottesville. For the sake of our country, he must leave no room for doubt that racism and hatred will not be tolerated or ignored by his White House."
These two men must have missed the MULTIPLE times President Trump has specifically condemned neo-Nazis and the KKK over the past few days. Also, unfortunately for Jeb Bush, Trump's BLUNT HONESTY is what won him the Presidency. So Jeb Bush – the failed Republican candidate – should KEEP HIS MOUTH SHUT!Trump's supporters have come to his aide against these two and are showing them just how WRONG they are about our President.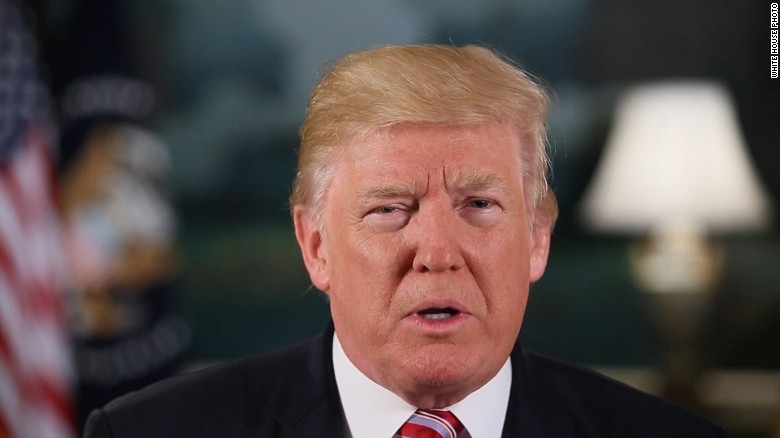 This quote should say it all for how President Trump feels about this violence:
"In times such as these, America has always shown its true character — responding to hate with love, division with unity and violence with an unwavering resolve for justice."
How many more times must he say it before the media will report on it? This is insanity!
What is the dossier?
It is a 35-page collection of research memos written by Christopher Steele, a respected former British intelligence agent, primarily during the 2016 presidential campaign. The memos allege a multifaceted conspiracy between the Trump campaign and the Russian government to help Mr. Trump defeat Mrs. Clinton. The memos also detail unsubstantiated accounts of encounters between Mr. Trump and Russian prostitutes, and real estate deals that were intended as bribes, among other claims about Mr. Trump's businesses.
Who paid for it?
During the Republican primaries, a donor opposed to Mr. Trump becoming the party's presidential candidate retained a research firm called Fusion GPS to unearth potentially damaging information about Mr. Trump. The donor has never been identified, but several possible suspects have denied responsibility, including officials from the so-called super PACs that supported the rival campaigns of Senator Marco Rubio of Florida and former Gov. Jeb Bush of Florida.
After Mr. Trump secured the nomination, Fusion GPS was hired on behalf of Mrs. Clinton's campaign and the D.N.C. by their law firm, Perkins Coie, to compile research about Mr. Trump, his businesses and associates — including possible connections with Russia. It was at that point that Fusion GPS hired Mr. Steele, who has deep sourcing in Russia, to gather information.
Does it matter who paid for it?
That depends on your politics.
Republicans have criticized the dossier since it was first publicly disseminated when Buzzfeed published it in January. Mr. Trump has blasted it as "fake news" and "phony stuff," and alleged that it is part of a broader witch hunt intended to cast doubt on his victory. His allies now contend that the allegations in the dossier are discredited by the fact that it was funded at least partially by the Clinton campaign and the D.N.C. Mr. Trump asserted on Wednesday in an interview with Fox Business Network's "Lou Dobbs Tonight" that the Democrats' payments for the research were "the real collusion."
Democrats argue that who paid for the research is irrelevant to the veracity of its claims, which they say should be thoroughly investigated. Yet some of the Democrats who funded the dossier have been leery about being associated with it. The lead Perkins Coie lawyer representing both the campaign and the D.N.C., Marc Elias, pushed back earlier this year when asked whether his firm was the client for the dossier, whether he possessed it before the election and whether he was involved in efforts to encourage media outlets to write about its contents.
On Tuesday, the veteran Democratic consultant Anita Dunn, who is working with Perkins Coie, explained Mr. Elias's earlier response. "Obviously, he was not at liberty to confirm Perkins Coie as the client at that point, and should perhaps have 'no commented' more artfully," Ms. Dunn wrote in an email.
Is this sort of research common or legal?
Campaigns and party committees frequently pay companies to assemble what's known in politics as opposition research — essentially damaging information about their opponents — and nothing is illegal about the practice.
However, Republicans and campaign watchdogs have accused the Clinton campaign and the D.N.C. of violating campaign finance laws by disguising the payments to Fusion GPS on mandatory disclosures to the Federal Election Commission.
Source:politicalfeed